With the current level of technological advancement and with mobile payments becoming more prevalent, it is important to know which payment technology will best fit your business needs. In this article, we discuss some of the most popular methods including credit cards, Apple Pay, PayPal and Bitcoin.
The "best payment system for online business" is a technology that allows users to make payments online. This can be done through either credit cards or cash. The best payment systems are highly secure and cost effective.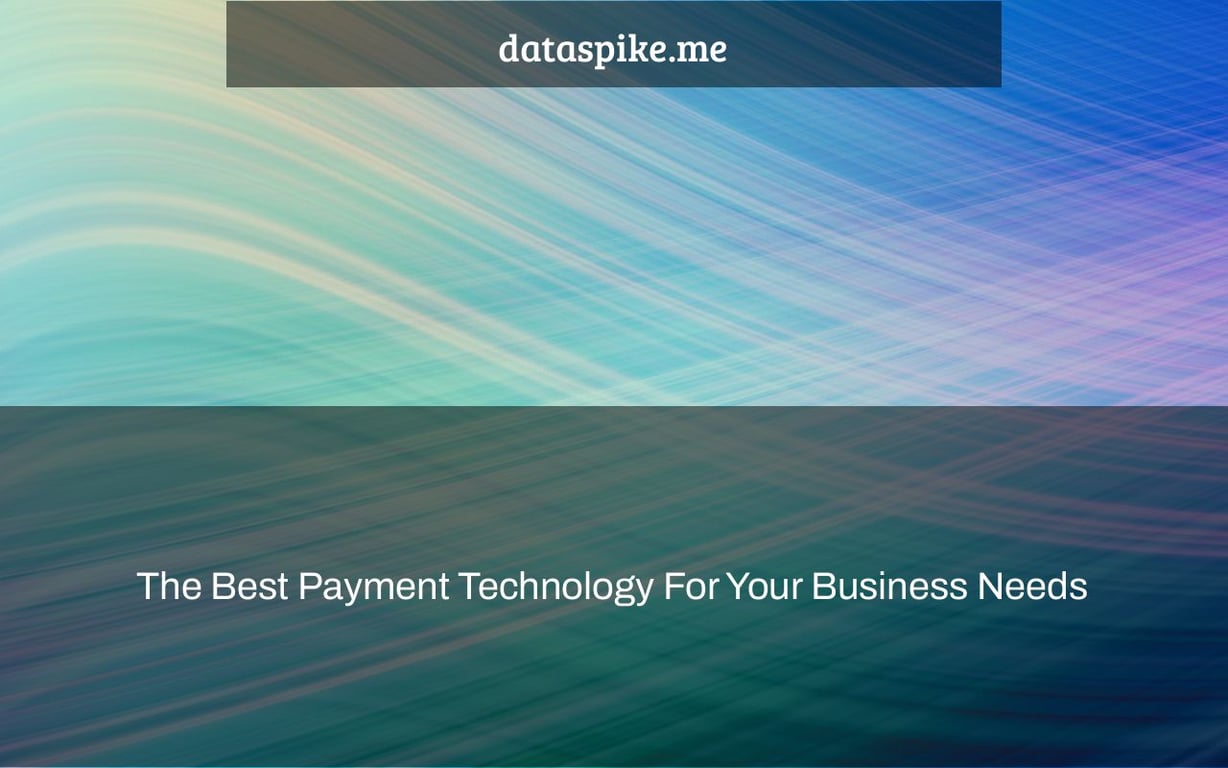 Debit and credit card payments are the most crucial payment technology for your company. You may then begin to extend into other payment technologies once you have this. Online, smartphone, subscription, and cryptocurrency payments are all excellent technologies.
Customers are more likely to return if you make it easy for them to pay for your services. Customers will be able to engage with your company in more ways if you provide a variety of payment alternatives. Each of the payment technologies listed below might be beneficial to your company.
Begin with credit card payments.
The adage "cash is king" may no longer be as accurate as it once was. Despite the fact that cash transactions are straightforward and painless, many younger individuals do not carry cash these days. With this trend, having credit and debit card payment alternatives is more vital than ever.
Fortunately, there are several possibilities. There are card readers that operate with a smartphone, such as Square's. Depending on your company's demands, larger solutions are also available.
Processing fees are charged by many card readers, so keep that in mind when upgrading. These expenses aren't always exorbitant. When selecting for a card reader, think about the different charge rates and restrictions.
If this is your sole means of payment other than cash, you'll be ready to grow.
Expand your business towards online payments.
Online payments are similar to card payments. As Amazon has shown, online buying is much more convenient in many circumstances. Not to mention the issues that arise as a result of public safety regulations.
Contactless payment methods are critical to keeping your company solvent, especially with COVID-19 still a danger. Customers may continue to support your company without leaving their homes by making online payments.
Your online business should provide as many payment choices as possible to get visitors to spend using their preferred way. Many marketing methods are made possible by the availability of online payment choices.
Furthermore, clients may purchase on their own time using internet purchasing. There's no need to be concerned about business hours.
The online gambling sector is a superb example of well-executed online payment methods. The majority of them provide a number of payment and promotional alternatives.
One of their most successful promotions, which attracts a large number of new clients, is their low admission criteria. Some online casinos allow you to begin playing with only one New Zealand dollar.
Apps on smartphones may provide value.
While individuals aren't carrying cash as much as they once were, everyone now has a smartphone. A growing number of sectors are altering their marketing tactics to target mobile customers.
Adding mobile payments to your company can open a lot of opportunities for you and your clients. As the number of individuals who possess smartphones grows, it becomes even more critical to offer excellent mobile payment choices.
These choices might be as simple as a card reader that accepts mobile wallets like Apple Pay. A mobile app for your company is another more involved choice. The latter is, without a doubt, an investment, but one that is well worth it.
Subscription billing simplifies everything.
Subscriptions, recurring payments, and instalment payments are all excellent ways to pay. Once set up, they make payments simple. This might take a variety of shapes depending on your industry.
Subscriptions and recurring payments are quite similar, yet they vary in a few significant ways. Payment levels are one of the most significant of these distinctions.
You may provide a few different payment tiers with subscriptions. Customers who aren't willing to spend as much money may have more alternatives as a result of this. With so many possibilities, the lower-cost levels seem to be bargains.
Frequently, recurring payments are merely a single flat fee. Their advantage is the ease of setting up the payment once and forgetting about it.
Paying in installments is a terrific method to attract a larger spectrum of clients to your company. This also opens up a lot of possibilities for other marketing methods. At first look, four ten-dollar payments may seem to be less than forty dollars.
Cryptocurrency may help you expand your possibilities.
This is where you can begin to get ahead of the game in terms of payment methods. Over the past several years, cryptocurrency has surged in popularity.
When determining whether or not to accept cryptocurrency payments, keep your target audience in mind. If the crypto community overlaps with your target audience, this is a good choice to include. Your consumers will be blown away by the possibility of paying with cryptocurrency.
This final payment option, however, is still in the works. At the present, cryptocurrency payments might take a few days to complete. The present volatility of bitcoin valuations adds to this.
Finally, some ideas
Your payment alternatives should expand in tandem with your company's growth. This will increase the reach, accessibility, and convenience of your customers. When it comes to developing your company, be sure to look into all of your possibilities.
The "best ach payment processing for small business" is a technology that allows businesses to accept credit cards, debit cards, and checks. This service can be used in stores, online, or through your phone.
Frequently Asked Questions
What payment system is best for small business?
A: PayPal is an online payment platform. You can use it to transfer money between people or businesses and give them their funds in just a few minutes. It is one of the most reliable payment methods out there, with 99% accuracy, ensuring that your transactions are processed smoothly every time you make a purchase.
Which payment app is best for business?
A: Square is best for business because it allows you to accept payments with ease.
How do I choose a good payment gateway for my business?
A: You should use a payment gateway that is reliable, secure and offers low fees. There are many options on the market but some good choices include Stripe, PayPal and Braintree.
Related Tags
best online payment system for small business
online payment software for small business
best payment processing for small business
mobile payment options for small business
free payment processing for small business